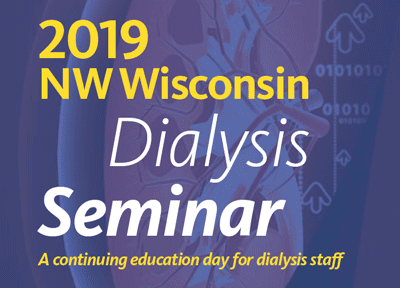 Thursday, March 7, 2019
7:15am – 4:45pm
Mayo Clinic Health System – Luther Midelfort Campus
Eau Claire, Wisconsin 54703-5222
The NW WISCONSIN DIALYSIS SEMINAR is a day long opportunity for dialysis nurses, social workers, dietitians and patient care technicians to receive continuing education credits. Students enrolled in healthcare training careeers are also encouraged to attend. Full time students can attend at a reduced registration cost.
Topics that will be covered within the various one hour sessions are:
Dealing with the Human Side of Dialysis
Boundaries in the Medical Setting
Fluid Overload
Renal Nutrition
Stress
Engaging the Hmong Patient
Living Kidney Donation
For more detailed information and to register, view the
NW Wisconsin Dialysis Seminar brochure.
Register Now
Online link
By mail using brochure form
By phone: 414-897-8669
The day's programming is developed under the direction of the National Kidney Foundation of Wisconsin, an accredited provider of continuing education credits for nurses, social workers and dietitians.
The National Kidney Foundation of Wisconsin is grateful to the following professionals who volunteered as members of the 2019 Planning Committee:
Kattie Hanson, CHT
Dawn Tweed, RN, MSN
Michelle Hostettler, CSW
Avery Winter, CHT
Jill Hoyt, RD
Jessica Zemen, APSW, NSW-C, C-ASWCM
Shawnna Stump, CHT
---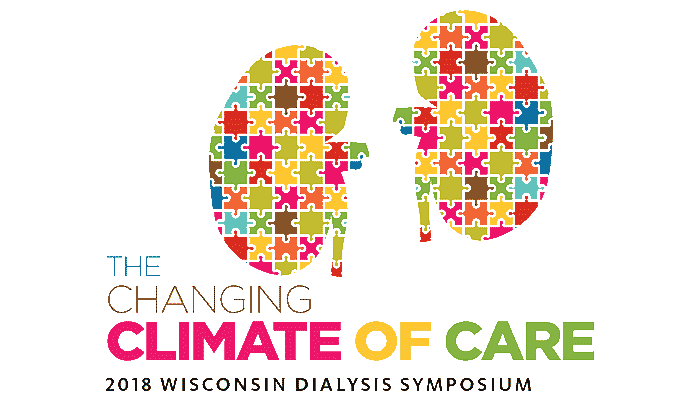 The Changing Climate of Care DIALYSIS SYMPOSIUM is an annual continuing education program coordinated by the National Kidney Foundation of Wisconsin.  The event is held the second Thursday of November annually in Madison, Wisconsin.
Continuing education credits are available to  social workers, nurses, patient care technicians and dietitians. Full time students studying for a healthcare training career at a technical school or university are able to attend for a  reduced registration cost.
SAVE THE DATE: Thursday, November 14, 2019
November 8, 2018 CEU's : Social workers and dietitians must complete the online activity evaluation to receive a certificate of attendance.  Click here to complete the evaluation.
Need assistance:   Download instructions.
Missed the November, 2018 event?  Attend one of these upcoming programs:
2018 Dialysis Symposium Photo Slideshow

Session Titles & Speakers
7:45am – KEYNOTE:  Four Love Stories
Walter F. Piering, MD, FACP, Professor of Medicine
Division of Nephrology, Medical College of Wisconsin
View PowerPoint
9:15am WORKSHOPS
AM #1 – HD Vascular Access – Recognition of Complications is a Team Sport
Allan M. Roza, MD, FACS, Professor
Department of Surgery, Division of Transplant Surgery, Medical College of Wisconsin
View PowerPoint
AM #2 – Helping Patients with Chronic Conditions: Empathy, Advocacy, and Altruism
Michele (Micki) A. Hill, RN, BSN, CPN, Nurse Consultant
State of Wisconsin, Department of Health Services, Division of Public Health,
Bureau of Aging and Disability Resources, Office for Physical Disabilities and Independent Living
View PowerPoint
AM #3 – Unfiltered: Navigating the Nutrition-Focused Physical Exam During Dialysis
Michelle Kozeniecki, MS, RD, CNSC, CD, Lead Clinical Dietitian, Medical ICU, Transplant ICU
Froedtert & The Medical College of Wisconsin
Froedtert Hospital
View PowerPoint
AM #4 – Survey Readiness
Marie Rose, ADN, RN, Clinical Services Specialist
DaVita Dialysis, DaVita Badgerland
View PowerPoint
10:30am – WORKSHOPS
AM #5 – Update: Clinical Practice Guideline for Vascular Access
Brad C. Astor, PhD, MPH, Associate Professor
Departments of Medicine and Population Health Sciences,
University of Wisconsin School of Medicine and Public Health
Amy Marthenze, BSN, RN, Director
Aspirus Wausau Hospital Dialysis
PowerPoint Not Available
AM #6 – Mindfulness + Communication = Resilience – Strategies to Avoid Burnout
Lisa Hare, Manager
Performance Excellence Support Services, Froedtert Health
View PowerPoint
AM #7 – Getting to the Heart of Malnutrition – Connecting Inflammation, Malnutrition and Cardiovascular Health in CKD5
Eileen Moore, CNSC, RD, LD, Clinical Liaison Director
Renal Products, Pentec Health
View PowerPoint
AM #8 – Emergency Preparedness – Oops! I Got Caught With My Pants Down
Sandra Nommensen, BSN, RN, Clinical Manager
Fresenius Kidney Care, Janesville
View PowerPoint
AM #9 – Legal Decision-Making in Wisconsin: The Roles of Power of Attorney Agents and Guardians
Jessica L. Trudell, JD, Managing Attorney
Guardianship Support Center, Greater Wisconsin Agency on Aging Resources
View PowerPoint
NOON WORKSHOPS
LUNCH #1 – ETHICS SESSION
When Death Becomes Life
Presenter: Joshua D. Mezrich, MD, Associate Professor
Department of Surgery, Division of Transplantation, UW Hospital and Clinics
Moderator: Erin Mathias, CISW, Outpatient Transplant Social Worker
UW Hospital and Clinics
View PowerPoint
SPECIAL OFFERING*
LUNCH #2 – The Role of Parsabiv (etelcalcetide) in the Treatment of Secondary Hyperparathyroidism (HPT) in Adult Patients on Hemodialysis
Linda McCann, RD, CSR, Nephrology Nutrition Consultant  
*This special offering does not qualify for continuing education credit
PowerPoint Not Available
1:15pm WORKSHOPS
PM #1 – Mindfulness + Communication = Resilience – Strategies to Avoid Burnout
Lisa Hare, Manager
Performance Excellence Support Services, Froedtert Health
View PowerPoint

PM #2 – Identifying Barriers to Improve Fistula Rate
Leena M. Joshi, MD, Medical Director
St. Catherine's Kidney Center, Froedtert South
View PowerPoint
PM #3 – Guidelines to Living Your Best Life
David Pritchard, Wellness Ambassador
The Mark Travel Corporation
View PowerPoint
PM #4 – Catheter Reduction: How Can Social Workers and Dietitians Make a Difference?
Rod Luther, CCHT, BSE, Vascular Access Coordinator
Fresenius Kidney Care, Upper Midwest Region
View PowerPoint
PM #5 – Update: Clinical Practice Guideline for Nutrition in CKD
Jennifer Bazzanella, RDN, CD, Clinical Dietitian
Fresenius Kidney Care
View PowerPoint
2:25pm WORKSHOPS
PM #6 – Oral Health: What's the Connection to Your Patients' Health
Debra DeNure, BAS, RDH, Oral Health Coordinator
Public Health – Madison and Dane County
View PowerPoint
PM #7 – Healthy Shelves Kidney-Friendly Food Pantry Rx: Assuring Nutritional Adequacy for Hemodialysis Patients
Lisa K. Stark, MPH, MS, RD, CD, Associate Professor, Dietetics
Mount Mary University
Jill Herz, MS, RD, FoodWIse Administrator
Waukesha County UW Extension
View PowerPoint
PM #8 – Tricks of the Trade: Medication, Adherence and Intimacy
Cassandra D. Votruba, PharmD, PGY-2, Solid Organ Transplant Pharmacy Resident
UW Health Pharmacy Services
View PowerPoint
BOUNDARIES SESSION
PM #9 – Boundaries and Safety – Managing Difficult Situations
Cory Carlson, MSN, RN, Inpatient Behavioral Health Supervisor
Mayo Clinic Health System – Eau Claire
Melissa Fry, MSW, NSW-C, Social Worker
Mile Bluff Medical Center, Mauston
This session may qualify for 1.0 Boundaries continuing education credit
PowerPoint not available.
3:35pm KEYNOTE: Living the Transplant Experience from All Points of View
Moises A. Garcia, MD
Transplant Hepatology, Aurora Healthcare
View PowerPoint
4:35pm WRAP UP & EVALUATION
5:00pm ADJOURN
Special thanks to these volunteers who served on the Symposium's Leadership Planning Committee.
Judy Geissler, DNP, APNP, FNP-BC, CNN
Vascular Access Advanced Practice Provider
Medical College of Wisconsin – Milwaukee
Rod Luther, CCHT, BSE
Vascular Access Coordinator
Fresenius Kidney Care, Upper Midwest Region
Jill Hoyt, RD
Renal Dietitian
Mayo Clinic, Eau Claire
Lynn Stuker, RN
Dialysis Nurse
Clement J.Zablocki VA Medical Center
Kim Webber, BA, RN, CNN
Manager
Wisconsin Poison Center
Katie Sahajpal, BSN, MSN
Director Dialysis Services
Aurora Health Care, Milwaukee
Stephanie Nickel, MSW, APSW
Discharge Planner / Social Worker
Divine Savior Healthcare, Portage
Melissa Fry, MWS, CAPSW, NSW-C
Dialysis Social Worker
Mile Bluff Medical Center, Mauston
Deborah Bowe, RN, CNN
Quality Improvement Coordinator
Midwest Kidney Network
Lunch Sponsors


Break Sponsors
Horizon Pharma
Opko